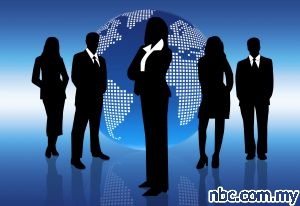 It is required by Section 139 of the Companies Act, 1965 that the every limited company (sdn bhd or berhad) need to have at least one Company Secretary.
Most of the public listed companies would have their own secretarial departments where all corporate legal matters will be handled by their in-house full time company secretaries.
However, it is impossible & not practical for small and medium companies (SMC) to have the services of full time licensed secretary in their office.
As such, the services of an external secretary of professional secretarial firms will normally be engaged to perform all company secretarial matters. 
The licensed secretary so appointed by the Board of Directors of a limited company will look after and conduct all legal and procedural matters as required by the Companies Act 1965 and all other applicable laws fall under the duties of a Company Secretary.
The company secretary must be of full age (18 years old) with his principal or only place of residence in Malaysia and must be either a member of a professional body approved by the Ministry, or a licensed secretary granted by the SSM Malaysia (Companies Commission of Malaysia, CCM) pursuant to section 139 of the Companies Act. Further, the person must not be a bankrupt and is not convicted of any offence under Section 130 (1) of the Companies Act.
The Minister has approved the following professional bodies as the prescribed professional bodies:
1. The Malaysian Association of The Institute of Chartered Secretaries and Administrators (MAICSA)
2. Malaysian Association of Company Secretaries (MACS)
3. The Malaysian Bar
4. The Malaysian Institute of Accountants (MIA)
5. Malaysian Association of Certified Public Accountants (MACPA)
6. The Sabah Law Association
7. The Advocates' Association of Sarawak
Company Registration and Company Secretary
In order to start a business and to register a limited company in Malaysia, a person needs to engage a licensed company secretary to assist him/her to incorporate a new company with SSM Malaysia.
The registration of new company in Malaysia can only be done through the company secretary. The Company secretary will prepare all necessary registration documents and go through all registration processes with the cooperation from the directors to get the new company successfully registered with SSM Malaysia under the provisions of the Companies Act, 1965.
---
Special Offer from NBC Group:
NBC Group is offering company secretarial services at RM35 per month only for first (1st) year of appointment as new company secretary to your company!
Change your company secretary to us today and start enjoy first year secretarial fees at RM660 only!
Yes, one (1) year for RM660 only! (RM55 per month!)
Call us now at 03-7729 7018 (3 lines).
Check it out: Change Company Secretary