Eligible recipients of 1Malaysia People's Aid (BR1M), who have updated their bank account numbers with Inland Revenue Board, are expected to receive their BR1M Payments in February 2015.
Second Finance Minister Datuk Seri Ahmad Husni Hanadzlah said the payment would be credited into the bank accounts of 5.4 million recipients on that day.
Receive Voucher if You Did Not Register Bank Account for BR1M
He said the remaining two million recipients who did not have bank accounts will receive their BR1M payment in stages starting on Feb 23.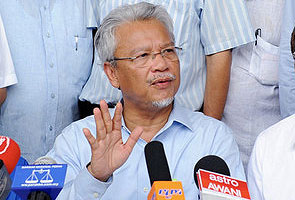 "The payments will be handed over to them at ceremonies to be held in all the 222 parliamentary constituencies," he said at the Tambun parliamentary Chinese New Year open house at SJKC Pei Cheng, Chemor near here yesterday.
Husni said it might take some time to hand over payments to those without bank accounts as the number of recipients was high.
"It will take some time for us to make the payment," he said.
Under the 2014 Budget which was announced by Najib in October last year, eligible recipients with an income of RM3,000 and below would receive RM650, while those earning between RM3,001 and RM4,000 monthly would get RM450.
The financial aid will also be given to singles aged 21 and above who earn RM2,000 and below.
On the negotiations for the proposed takeover of the Automated Enforcement System (AES) between the Finance Ministry and the two companies, Ahmad Husni said he could not predict when negotiations could be concluded.
"In terms of commercial decision, it must be a willing buyer and willing seller decision.
"We cannot anticipate when an agreement will be reached but I believe both parties will reach an agreement on the matter eventually."
It was recently reported that the Finance Ministry was still negotiating over the pricing for the proposed takeover of the AES project from the two concessionaires and it was currently in the process of determining the amount for the takeover after a comprehensive process of due diligence.
Husni, however, declined to comment on a news report that the government had placed a valuation of about RM180mil each to take over the companies lock, stock and barrel, while the operators contend that their values should be double that or more.
Source: NewStraitTimes Online