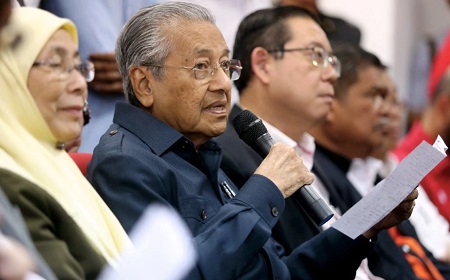 PETALING JAYA: The 1Malaysia People's Aid (BR1M) will be continued, with an emphasis on ensuring that only those who deserve it receive the aid, says Prime Minister Tun Dr Mahathir Mohamad.
He said a study will be done to eliminate cases of the aid going to those who do not qualify for it, which he said has occurred in the past.
"Sometimes, there were cases of people who did not deserve BR1M ending up receiving it, so we will be studying this.
"We cannot see BR1M as a form of bribery or as an inducement to support the government; instead it should be viewed as a driver to tackle social problems," he said.
Meanwhile, Dr Mahathir said Malaysia should not be worried over any potential downgrade in credit rating due to the implementation of the zero-rated Goods and Services Tax (GST), as the country is set to profit from higher oil prices and lower government expenditure.
"(This) the (2018) budget was drawn up when the oil price was at US$52, (but) now (at) US$70 per barrel, we stand to profit from this," he said.
Dr Mahathir said the off-setting revenue mechanism had been taken into account when the government decided to lower the GST rate from six per cent to a zero-rated tax.
He also said the fluctuations in oil prices, which would impact government revenue, had also been factored in when deciding to reintroduce the subsidies for petroleum.
"Of course what we have decided is that there will be no more changes or fluctuations in the value of petroleum, which has been changed every week.
"This is destructive to business, both the buyers and sellers, so now the price will remain static, but if we have to subsidise, then we will subsidise," he added.
International rating agencies – S&P Global Ratings, Moody's Investors Service and Fitch Ratings – said the zero-rated GST would constraint government income should there be no revenue-raising measures.
Dr Mahathir, when asked on the status of the Kuala Lumpur – Singapore High-Speed Rail (HSR) Link, said these contracts would have to be reviewed given their cost.
"We have made it clear that we will look into all these contracts as they are costly," he said. On the status of the East Coast Rail Link (ECRL), he said the government "will decide on it at a later date."
Pakatan Harapan had prior to the 14th General Election, pledged to review all of the previous Barisan Nasional government's mega projects, especially those linked to China.
Of particular interest was the high-speed railway line linking the cities, which was expected to be completed in 2026, cutting travel time overland to 90 minutes from around five hours.
The 688-km ECRL, meanwhile, was previously touted as a 'game changer' in the Malaysian transportation landscape as it would cut travel time between the east and west coasts, on top of opening up new transportation channels and spurring development along its route.
Source: https://www.nst.com.my/news/nation/2018/05/370492/br1m-be-continued-says-dr-m