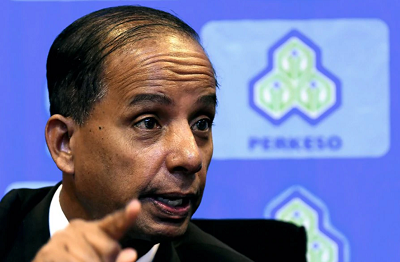 KUALA LUMPUR: The Social Security Organisation (Socso) will expand its security protection to the spouses of business owners.
Socso in a statement today said, at present, the spouses of business owners are not covered under its protection scheme as they are not defined as employees under the Employees' Social Security Act 1969 and the Employment Insurance System Act 2017.
Following that, Socso said both acts will be amended in the near future via an order gazetted by Human Resources Minister M Kulasegaran to ensure an exemption can be issued and implemented beginning July 1.
"A committee has been set up to examine the proposed expansion of this protection.
"Last year, about 34,000 couples who were working with their respective partners were not covered by Socso, as well as around 2.8 million housewives working with their respective spouses, can now be protected through this amendment.
"Following this amendment, wives or husbands working with their spouse will qualify for protection under the Employment Injury Scheme and 24 hours protection for the Disability Scheme.
"They will also be protected should they lose their jobs from partner-owned companies under the Employment Insurance System," the statement read.
Socso explained that contributions are equal to that of other employees – at 1.25 per cent by employers and 0.5 per cent from employees – for the Insurance Scheme Employment Disaster and Disability Scheme.
As for the Employment Insurance System, contributions will be at 0.2 per cent, from both employer and the spouse.
Further to that, Socso said a Cabinet paper will be tabled to provide protection to 1.4 million housewives, single mothers and widows.
In another development, Socso will discuss with the Transport Ministry to make it compulsory for all taxi drivers; Grab and rental car drivers; and those offering similar services to contribute to the Self-Employed Employment Injury Scheme if they wish to renew their public service vehicle and taxi permits.
The scheme, introduced in June last year, will provide these individuals protection, which covers among others accidents and illnesses.
As of this month, 21 claims have been submitted.
"Thus far, only 4,425 taxi drivers have contributed to Socso with a total contribution of RM860,000, while the remaining 95,575 out of about 100,000 taxi drivers still have yet to register with Socso.
"Taxi drivers and individuals offering similar services such as Grab have four flexible contribution options, namely RM157.20, RM232.80, RM442.80 or RM592.80 per year."
Source: https://www.nst.com.my/news/nation/2018/06/377761/sosco-expand-protection-spouses-business-owners