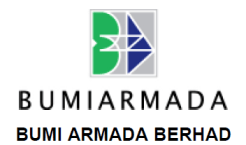 Bumi Armada updated and published its second draft IPO prospectus on the Securities Commission's website for an exposure period of only 5 working days up to 16 June 2011. As usual, the final offer price has yet to be announced.
With all these pre-IPO activities actively taking place including finalising the prospectus and regulatory review, it is soon Bumi Armada will be launching its final IPO prospectus in due course.
Mega IPO with huge number of shares offering
In its updated draft prospectus, Bumi Armada will undertake an initial public offering of up to 879 million shares of RM0.20 each comprising:-
Offer for sale – up to 234 million offer shares to MITI approved bumiputra investors at the institutional price to be determined by way of bookbuilding.
Public issue – up to 644 million new shares:
| | |
| --- | --- |
| – | institutional offering up to 564 million shares to institutional investors and selected investors, including MITI approved bumiputra investors; |
| – | retail offering of 80 million shares to Malaysian public (58 million shares, 29 million shares out of which for Bumiputra), employees and business associates (21 million shares) at a retail price to be determined. |
|   |   |
|   | Final retail price will be the lower of (i) retail price to be published in final prospectus and (ii) certain % discount to institutional price. |
Who is the major shareholder of Bumi Armada?
Ananda Krishnan is deemed to have 54.43% interest in Bumi Armada prior to the IPO and it will be diluted to 42.45% after the IPO exercise. As disclosed in the draft prospectus, his 54.43% interest in Bumi Armada is held by a trustee of a discretionary trust, the beneficiaries of which are members of the family of Ananda Krishnan and foundations including those for charitable purposes. Although Ananda Krishnan is deemed to have an interest in the shares, he does not have any economic or beneficial interest over the shares.
How to apply Bumi Armada IPO?
Prepare yourself with this upcoming mega IPO. We would normally suggest our friends and people to subscribe using online internet banking or ATMs to minimise the possible errors in filing up the IPO application form manually, avoid the hassle to buy bank draft and lost in transit by posting (unless submit by hand to MIH).
1. Internet share application via online banking
You must have internet banking account with those banks above and an individual CDS accounts under your own name (not in a nominee's name).
2. ATM machines
| | |
| --- | --- |
| Affin Bank | Ambank |
| CIMB Bank | Bank Muamalat |
| EON Bank | Maybank |
| HSBC Bank | OCBC Bank |
| Public Bank | Standard Chartered Bank (selected branches) |
| RHB Bank |   |
Likewise, you must have an individual CDS accounts under your own name (not in a nominee's name) to apply IO via ATM.
3. Manual white application form submission by post or by hand to Malaysian Issuing House Sdn Bhd, Level 6, Symphony House, Pusat Dagangan Dana 1, Jalan PJU 1A/46, 47301 Petaling Jaya. P.O.Box 8269, Pejabat Pos Kelana Jaya, 46785 Petaling Jaya.
---