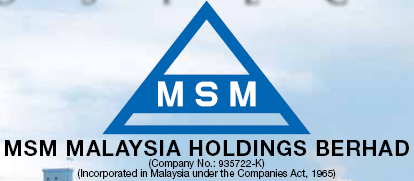 MSM Malaysia Holdings Berhad IPO institutional price fixed at RM3.50 per share today. The final retail price remains at RM3.38 per share, approximate 3.4% discount from its institutional price.
Under its retail offering of 28 million shares, 14 million shares made available to MSM employees and the other 14 million shares made available to the Malaysian public for subscription. 
For the 14 million shares made available for public subscription, a total of 496 million applications shares with a value of RM1,677 million were received from the Malaysian public. This represents an overall oversubscription rate of 34.28 times.
Half of the Malaysian public portion or 7 million shares set aside for Bumiputera category was oversubscribed by 17.50 times with 130 million shares applications received under Bumiputera category. Another 50% or 7 million shares for non-bumiputera public category has been oversubscribed by 51.06 times with 366 million shares applications received under this non-bumiputera public category.
Notices of allotment will be dispatched by post to all successful applicants on or before 24 June 2011.
Some important dates as reminder:
Allotment of shares to successful applicants' CDS accounts – 24 June 2011

Listing date – 28 June 2011, 9:00am
Here is the IPO results for balloting of successful applications by Malaysian bumiputera and non-bumiputera public categories published by MIDF: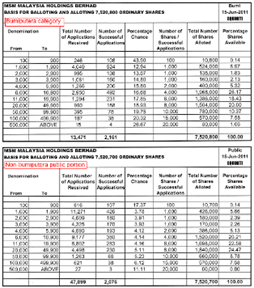 On recent weak market sentiment and poor IPO debuts locally and regionally, it is quite surprise to see there is still such a high level of shares subscription, although the allocation to Malaysian public portion is very low at only 14 million shares, a merely 6% of total 234 million IPO shares. No doubt the business fundamental is good, it may also partly due to long subscription period of 8 days that allow investors more time to gather their capital for investment.
Congratulations to those investors who were or will be successful in the balloting. Wish you a good fortune and big windfall at the listing day on 28 June 2011, Tuesday.
For who are not that lucky, let's look forward for another upcoming mega IPO – Bumi Armada Berhad!
---