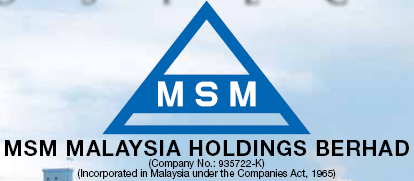 WOW…..!!!!
MSM Malaysia Holdings Berhad has its greatest shine with its exceptional strong listing debut premium of nearly RM1.00 or 32% over its institutional price of RM3.50 at Bursa Malaysia.
MSM share price reached its highest to RM4.98 or 42% higher, before it closed at RM4.89 by 5pm today. It gained RM1.51 or 45% from its retail price or RM1.39 or 40% from its institutional price. 
IPO offer price

RM

Institutional

3.50

Retail

3.38

MSM first day trading price

Open price

4.45

32%

Lowest price

4.40

26%

Highest price

4.98

42%

Closing price

4.89

40%
Good track record + brand name + higher profit
The strong surge in listing debut could attribute to its good track record and well-known brand name, as well as announcement of strong quarterly results prior to its listing date.
MSM Malaysia's net profit for the first quarter ended March 31 increased by 416.5 per cent to RM62.2 million, mainly due to the rise in sales and higher prices of refined sugar products.
MSM first day trading – share price chart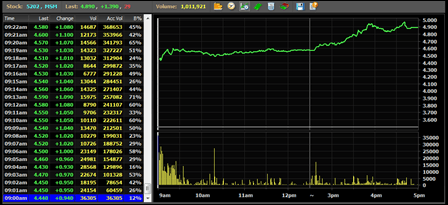 MSM share price hits 30% limit-up on first trading session?
After MSM share price open at RM4.45 or RM0.95 premium over its institutional price RM3.50, the share price was then traded in the region RM1.00 to RM1.09 higher. It gave the impression it was traded at its 30% limit-up for its first half trading (morning) session. In the second half (afternoon) session, the share price started to move upwards and reached to its peak at RM4.98 or RM1.48 higher.
Let's see below what the Bursa Malaysia rules say!
Bursa Malaysia rules on trading limit for new listing and existing stock
New Listing including IPO

Limit Up

Limit Down

Above RM1.00

400% (5 times)

30%

Below RM1.00

400% (5 times) or 30 sen, whichever is higher

30 sen

Existing Stock

Limit Up

Limit Down

Above RM1.00

30%

30%

Below RM1.00

30 sen

30 sen
All price thresholds are valid for the whole trading day instead of each trading session, following the amendment made by Bursa Malaysia in April 2011 by replacing the session limit to day limit.
Bursa Malaysia in its reference price announcement states that the MSM opening reference price set at RM3.50, lower limit RM2.45 and upper limit RM17.50 (RM3.50 x 5 times).
This means, MSM share price can be traded as high as RM17.50 on its first day, if it can flies that high, not limited to usual 30% limit up.
So? What is the message sent by MSM?
Positive! Despite recent weak IPO debuts locally and in the region, with good track record + brand name + increased profit like MSM, it still garner strong investors interest.
Can we expect the same momentum for the upcoming OldTown and Bumi Armada IPO?
Let's looking forward together…!!!