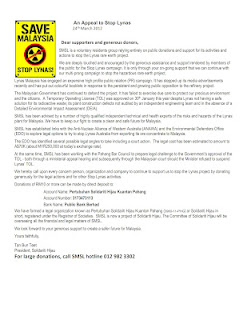 Dear supporters and generous donors,
SMSL is a voluntary residents group relying entirely on public donations and support for its activities and actions to stop the Lynas rare earth project.
We are deeply touched and encouraged by the generous assistance and support rendered by members of the public for the Stop Lynas campaign. It is only through your on-going support that we can continue with our multi-prong campaign to stop the hazardous rare earth project. 
Lynas Malaysia has engaged an expensive high profile public relation (PR) campaign. It has stepped up its media advertisements recently and has put out colourful booklets in response to the persistent and growing public opposition to the refinery project.
The Malaysian Government has continued to defend the project. It has failed to exercise due care to protect our precious environment and the citizens.  A Temporary Operating License (TOL) was approved on 30th January this year despite Lynas not having a safe solution for its radioactive waste; its plant construction defects not audited by an independent engineering team and in the absence of a Detailed Environmental Impact Assessment (DEIA).
SMSL has been advised by a number of highly qualified independent technical and health experts of the risks and hazards of the Lynas plant for Malaysia. We have to keep our fight to create a clean and safe future for Malaysia.
SMSL has established links with the Anti-Nuclear Alliance of Western Australia (ANAWA) and the Environmental Defenders Office (EDO) to explore legal options to try to stop Lynas Australia from exporting its ore concentrate to Malaysia.
The EDO has identified several possible legal angles to take including a court action.  The legal cost has been estimated to amount to A$70K (about MYR250,000 at today's exchange rate).
At the same time, SMSL has been working with the Pahang Bar Council to prepare legal challenge to the Government's approval of the TOL – both through a ministerial appeal hearing and subsequently through the Malaysian court should the Minister refused to suspend Lynas' TOL.
We hereby call upon every concern person, organization and company to continue to support us to stop the Lynas project by donating generously for the legal actions and for other Stop Lynas activities.
Donations of RM10 or more can be made by direct deposit to:
Account Name: Pertubuhan Solidariti Hijau Kuantan Pahang
Account Number: 3173473113
Bank Name: Public Bank Berhad
We have formed a legal organization known as Pertubuhan Solidariti Hijau Kuantan Pahang (3960-11-PHG) or Solidariti Hijau in short, registered under the Registrar of Societies.  SMSL is now a project of Solidariti Hijau. The Committee of Solidariti Hijau will be overseeing all the financial and legal matters of SMSL.
We look forward to your generous support to create a safer future for Malaysia.
Yours faithfully,
Tan Bun Teet
President, Solidariti Hijau 
For large donations, call SMSL hotline +6 012 982 3302
Source: http://savemalaysia-stoplynas.blogspot.com/2012/04/appeal-to-stop-lynas-in-english.html