Malaysia's Consumer Price Index (CPI) increased by 3.0 per cent for the period January to May 2011 compared with the same period last year. When compared to the same month in 2010, the CPI for May 2011 registered an increase of 3.3 per cent and when compared with the previous month, the CPI increased by 0.3 per cent.

For the period January to May 2011, the index for Food & Non-Alcoholic Beverages and Non-Food increased by 4.5 per cent and 2.4 per cent respectively. Among others, alcoholic beverages & tobacco, transport and restaurants are the main contributors (Table 1).
Infation will most probably rise in June 2011, driven by increasing non-food prices and the electricity tariff hike. Effective June 1, the average electricity tariff has been increased by 7.12%.
Some analysts expect the Bank Negara Malaysia's overnight policy rate to raise by 25 basis points to 3.25% in the third quarter this year to combat inflation pressure and also contain further erosion of the negative real returns now at 0.3%. Further rise in OPR will add on to the base lending rate (BLR) which will in turn increase the interest rate in Malaysia.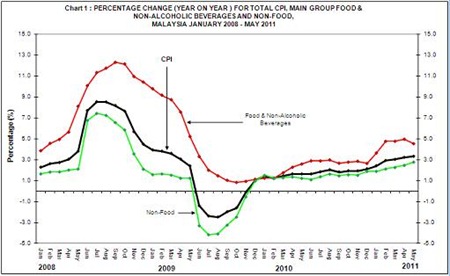 What is inflation? What is Consumer Price Index?
In economics, inflation is a rise in the general level of prices of goods and services in an economy over a period of time. A primary measure of price inflation is the inflation rate, the annualised percentage change in a general price index (normally the Consumer Price Index) over time.
Table 1 : MALAYSIA CONSUMER PRICE INDEX (CPI) (2010=100)
Group
Jan-May 2011
% change
Total CPI
3.00%
Food & Non-Alcoholic Beverages
4.50%

Alcoholic Beverages & Tobacco

6.30%

Clothing and Footwear

-0.50%

Housing, Water, Electricity, Gas & Other Fuels

1.60%

Furnishings, Household Equip. & Routine Household Maintenance

1.40%

Health

2.50%

Transport

4.90%

Communication

-0.10%

Recreation Services & Culture

0.80%

Education

2.00%

Restaurants and Hotels

5.40%

Miscellaneous Goods & Services

1.60%

Non-Food
2.40%

Durable Goods

0.20%

Semi-Durable Goods

-0.10%

Non-Durable Goods

4.50%

Services

2.30%
Source: Department of Statistics, Malaysia