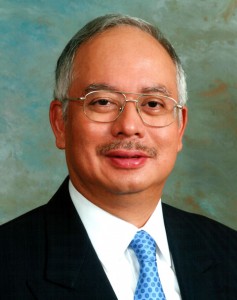 The Bantuan Rakyat 1Malaysia (BR1M) payment will be made an annual affair, with the amount increased to RM1,200 for households and RM600 for singles if the Barisan Nasional (BN) government returns to power in the next general election.
The coalition is also pledging to increase the 1Malaysia Book Vouchers to RM300 from RM250, and schooling aid to RM150 from RM100 per child.
These are some of the promises contained in the BN election manifesto titled 'People First' launched by Prime Minister and BN chairman Datuk Seri Najib Tun Razak at the Putra Indoor Stadium in Bukit Jalil, tonight. 
BR1M currently benefits households earning below RM3,000 a month and singles earning less than RM2,000.
The BN government had allocated RM6.4 billion in 2012-2013 for BR1M, 1Malaysia Book Vouchers and schooling aid.
"Our ongoing efforts to provide basic goods, services and necessities at lower prices are evident in our 1Malaysia products such as Kedai Rakyat 1Malaysia, Klinik 1Malaysia and Menu Rakyat 1Malaysia, the document said.
There is also the promise to open more Kedai Rakyat 1Malaysia and introduce 1Malaysia products in petrol stations and hypermarkets.
In addition, the BN plans to introduce more 1Malaysia products driven by government-linked companies and the private sector, as well as introduce the 1Country 1Price policy for essential goods.
The government spent RM586 million in the last two years for the price uniformity scheme to bring equally-priced basic items to Sabah and Sarawak.
In the manifesto, the BN pledges to open 1Malaysia clinics in high-density housing communities and set up more 1Malaysia daycare centres for working parents.
Car owners will be happy with the BN's plan to revamp the National Automotive Policy with a view to gradually reducing car prices by 20 to 30 per cent while at the same time increasing the competitiveness of the national cars.
The manifesto also mentioned that broadband fees will be lowered by at least 20 per cent with guaranteed bandwidth. — Bernama
Source: NewStraitsTimes