IPO institutional price fixed at RM2.60 per share today. 3% discounted IPO retail price set at RM2.52 per share, lower by RM0.38 or 13% from its initial retail price of RM2.90. The difference of RM0.38 will be refunded and despatched to successful retail applicants within 10 market days.
Is it a bad sign? Not necessary perhaps. It gives more upside and more capital gain to investors. Most of recent IPOs debut at a premium. Looking forward to the listing date on 8 June 2011, Wednesday, start at 9:00am at Bursa Malaysia.
Some important dates as reminder:
Allotment of shares to successful applicants' CDS accounts – 6 June 2011

Listing date – 8 June 2011, 9:00am
Following the balloting of successful applications today afternoon, Malaysian Issuing House (MIH) announced that UOA Development Berhad IPO 60 million new shares available for Malaysian public were oversubscribed at a rate of 3.40 times.  A total of 23,171 applications for 263.9 million shares were received from Malaysian public for a total of 60 million shares available for public subscription.
Half of the Malaysian public portion or 30 million shares set aside for Bumiputera category was oversubscribed by 2.29 times with 98.6 million shares applications received under Bumiputera category. Another 50% or 30 million shares for non-bumiputera public category has been oversubscribed by 4.51 times with 165.3 million shares applications received under this non-bumiputera public category.
Institutional offering of 337 million shares have been placed out to local and foreign institutional investors and selected investors including Bumuputera investors approved by the Ministry of International Trade and Industry (MITI).
Here is the IPO results for balloting of successful applications by Malaysian bumiputera and non-bumiputera public categories published by MIH: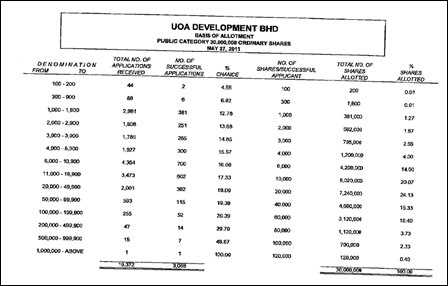 Check your IPO application status and results
You may check whether your IPO application is successful or not using your IC number or company registration number at MIH website. Hopefully MIH will be quick enough putting up the list of successful/unsuccessful applicants in their website.
Check IPO application status & results http://mih.com.my/enquiry.php
Alternatively, if you are applied online through internet banking at CIMB www.eipocimb.com or CIMB Bank www.cimbclicks.com.my, you may check through your eIPO or eShare status.
If you have applied through ATMs, check your bank accounts of those participating banks, i.e. Affin Bank, AmBank, Bank Muamalat, CIMB Bank, EON Bank, HSBC Bank, Maybank, OCBC Bank, Public Bank, RHB Bank or Standard Chartered Bank.
Applying through online internet banking or via ATMs is more faster and efficient than you buy a bank draft and submit your IPO application form manually and minimise errors or rejections due to incomplete documents or information submitted manually.
---