Also see latest post: Apply IPO: Bumi Armada or OLDTOWN ?
---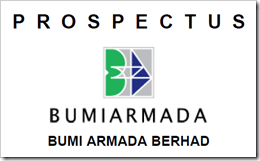 Malaysian oil and gas services provider, Bumi Armada Berhad, plans an initial public offering (IPO) on the Bursa Malaysia soon, following it lodged a draft IPO prospectus with Securities Commission for exposure in early May 2011. It is believed Bumi Armada Berhad IPO will be the largest offer in Malaysia since the listing of Petronas Chemicals last year.
The number of shares and offer price, as usual, are not available in the draft prospectus, as well as IPO timeline and listing date are also not finalised and fixed.
Bumi Armada is an offshore support specialist and the only Malaysian company that owns floating production storage and offloading vessels, which carry a premium lease rate.
Bumi Armada's IPO, which will be one of the largest announced in Southeast Asia this year, was delayed several times in the past few years. The company was privatised in 2003 by tycoon T. Ananda Krishnan, and a planned relisting in 2008 was delayed due to the global financial crisis. A subsequent relisting plan was also shelved.
After a series of privatisation of MAXIS, ASTRO, Measat and Tanjong plc by Ananda Krishnan in the past, he then re-lists MAXIS and Bumi Armada.
The joint global coordinators for the IPO are CIMB, Maybank and Credit Suisse, which are also joint bookrunners with RHB, CLSA and UBS.
---