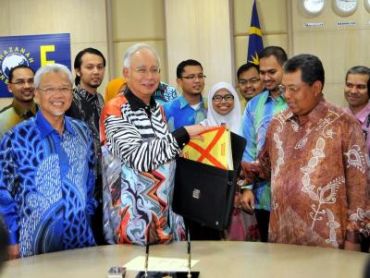 Prime Minister Datuk Seri Najib Tun Razak spent about an hour tonight (Thursday) to survey final preparations for the 2013 Budget at the Finance Ministry, here.
His arrival, accompanied by wife Datin Seri Rosmah Mansor, was received by staff and officers of the ministry who were involved in preparing the budget. 
Najib putting the Budget 2013 report into a briefcase during his last preparation for tomorrow.
Together with him second Finance Minister Datuk Seri Ahmad Husni Hanadzlah (left) and Deputy Finance Minister Datuk Dr Awanmg Adek Hussien.
Najib, who is also Finance Minister visited the operation's rooms, and subsequently, held a closed door meeting with senior officers of the ministry.
Also present during the meeting were second Finance Minister Datuk Seri Ahmad Husni Hanadzlah, Deputy Ministers Datuk Dr Awang Adek Hussin and Datuk Donald Lim Siang Chai.
Chief Secretary to the Government Datuk Seri Dr Ali Hamsa, Treasury secretary-general Datuk Dr Mohd Irwan Serigar Abdullah and Bank Negara governor Tan Sri Dr Zeti Akhtar Aziz.
Najib is scheduled to table the 2013 Budget in parliament at 4pm tomorrow.
In his 1Malaysia blog entry, Najib said the tabling of the 2013 Budget was made from the people and for the people because it was prepared after taking into consideration the views of the people.
It is also expected to make a big impact on the national economy, other than giving a good impact to the people, he added. – Bernama
Source: TheStar Online