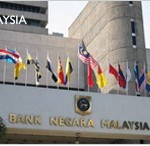 Further to Bank Negara Malaysia's (BNM) announcement on the implementation of a maximum loan-to-value (LTV) ratio of 70%, which will be applicable to the third house financing facility taken out by a borrower, effective from 3 November 2010, it is understand that the banks have already received the BNM's detailed policies and guidelines on the 70 percent housing loan limit.
It is learnt that the 70% third housing loan margin is only affecting the nature individuals (not company) who are currently having two outstanding mortgage loans and intend to take on the third loan. The BNM ruling is also applicable to any loan applications by joint purchasers/borrowers, if anyone of the purchasers/borrowers has two outstanding mortgage loans. For example, Mr A & Ms B have jointly purchased a new house and applied for a bank loan together. If Mr A has two existing outstanding mortgage loans, the new loan is only entitled to a maximum of 70% margin.
However, the BNM ruling is not applicable to a loan to be taken out by a company (Sdn Bhd or Bhd). This may open up a loophole for escaping from the 70% loan cap.
For loans which was fully settled or repaid, those loans will not be taken into the count. Say, if a person has two bank loans and one of which was fully settled, he is not subject to the 70% loan limit if he intends to take on a new housing loan.
BNM ruling is only governing the banks lending policies. Even if a person is having a total of five properties but without any outstanding bank loans, he is not subject to the 70 percent margin of financing limit if he were to purchase the 6th property and financed by a bank loan. This loan is considered as the first mortgage loan.
As long as the loan is for residential house or apartment, including serviced apartments, it is subject to the BNM ruling of 70% loan cap.