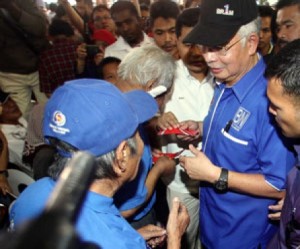 Prime Minister Datuk Seri Najib Razak officially launched the second round of distribution of the 1Malaysia People's Aid (BR1M 2.0) with recipients from Pandan and Ampang, Selangor being among the first to receive the RM500 aid voucher in a symbolic ceremony today.
Najib, who received a rousing welcome during the launch event at Taman Dagang, said RM3billion is allocated for the 7.3 million people who had registered so far under BR1M 2.0. 
Some 40,000 people in the Ampang and Pandan parliamentary constituencies will receive the cash aid, a jump from the 23,000 who enjoyed the cash aid last time around.
Najib, who is also Barisan Nasional chairman said the ruling coalition fulfilled all its promises, and this made the people trust the BN even more.
Amidst the crowds' cheers of "Janji Ditepati" and "Sayangi Selangor!", Najib urged the people of Selangor to return the state's reigns to BN.
He said Selangor had more than 400 projects that were delayed due to the water supply crisis,  which Najib said was due to the fault of Selangor's opposition-led state government.
"When this happens, investors may look to other states such as Pahang, Negeri Sembilan, and Malacca.
"Other states such as Penang and Kedah did not experience water disruptions because both states (which are also opposition led) had adhered to agreements with the federal government on water supply matters."
He said it was ultimately better if "the federal and state governments are from the same party."
Najib said the opposition party leaders in Selangor were known to only give empty promises, and this created unhappiness on the ground.
"What about the allowances promised to single mothers? That has not been fulfilled."
As early as 8am,  more than 8,000 started to throng a vacant area in front of Galaxy shopping complex, Taman Dagang Ampang to obtain cash BR1M 2.0
Najib later went on a walkabout at the nearby Pandan Jaya flats, pledging an amount of RM3.5 million to have them repainted.
He also launched Pandan BN's elections operations room before performing Zuhur prayers at Masjid Jamiilhuda, Kg Melayu here.
Source: NewStraitsTimes