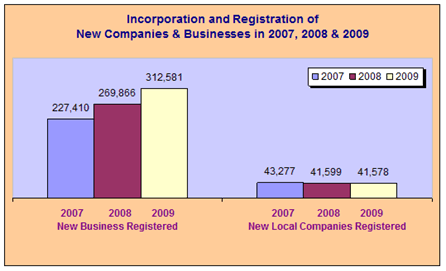 Incorporation of new local companies

The incorporation of new local companies with Suruhanjaya Syarikat Malaysia (SSM) in 2009 dropped marginally by 0.05% compared with 2008 despite the difficult economic conditions in the first nine months of 2009. Total new incorporations in the first three quarters of 2009 declined by 8% as the nation's economy contracted by 3.7% during the same period, but recovered strongly with a 30% increase when the economy grew by 4.5% in the fourth quarter of 2009. SSM's temporary reduction of the incorporation fees had served to incentivise the formation of new companies to participate in the various domestic economic activities pursuant to the Government's RM67 billion economic stimulus package.
Registration of new businesses
Registration of new businesses with Suruhanjaya Syarikat Malaysia (SSM) in 2009 continued to record a double digit growth of 15.8% year-on-year in spite of the economic contraction. This is chiefly due to the incentive provided by SSM in the form of a temporary reduction in fees for the registration of new businesses. The temporary reduction in fees is further augmented with SSM's relentless outreach programmes carried out in promoting and facilitating the registration of businesses, namely the Business Registration Mobile Counters (BRMC).
The overall total number of companies incorporated and businesses registered as at 31 December 2009 stands as follows :