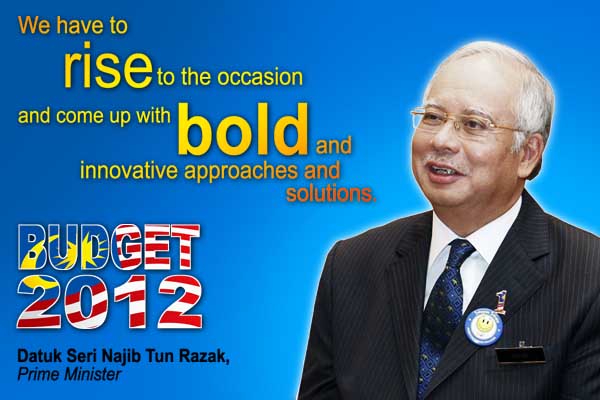 Budget 2012 : Transformational Budget for All Malaysians
The Malaysia Budget 2012 was delivered and tabled by Prime Mnister / Finance Minister, Datuk Seri Najib Tun Razak, on Oct 7, 2011 (Friday).
Selected Summary of Tax Budget 2012
* One off cash assistance of RM500 to all households with a monthly income of RM3,000 and below, costing RM1.8 billion to benefit 3.4 million households.
* One off RM100 aid for each school pupil aged 6 to 16.
* One off RM200 cash voucher for all Malaysian school pupils and higher learning institution students.
 * Ceiling for house prices under a government deposit guarantee scheme for first time house buyers to be raised to RM400,000 from RM200,000. 
* To extend import and excise duty exemption on hybrid and electric cars until end-2013.
* To allow 100 percent foreign ownership of 17 service subsectors including healthcare and logistics.
* Employers' EPF contribution will increase from 12% to 13% for staff earning RM5000 and below.
Tax Budget 2012 Full Speech by Prime Minister 

Real Property Gain Tax To Increase To 10% 

My First Home Scheme: From RM220,000 to RM400,000 

What they say after Budget 2012
Maybank President and Chief Executive Office, Datuk Sri Abdul Wahid Omar.
"Budget 2012 is most comprehensive and reflects the Government's effort to strike a balance between dealing with people, cyclical and structural issues"
CIMB Group Chief Executive, Datuk Sri Nazir Razak
"A creative and responsible budget, bringing down the deficit to 4.7 per cent in 2012 and yet delivering benefits to the most deserving segments of the rakyat."
Bursa Malaysia Chief executive officer, Datuk Tajuddin Atan
"We certainly welcome and look forward to the listing of Felda Global Venture Holdings, which is expected to be listed on our Exchange mid of next year.  This listing will create yet another blue chip in the Plantation sector and add to our niche offerings, attracting larger international portfolio funds to the Malaysian market."
Maxis Bhd Chief Executive Officer, Mr Sandip Das
"We can see that the budget for 2012 is a continuation of the efforts being undertaken to secure a strong future for the nation,"
Real Estate and Housing Developers' Association Malaysia President, Datuk Seri Michael Yam
"The fact that there is no drastic change to the ruling on RPGT encourages long-term ownership of property which also helps the owner with capital appreciation and wealth creation as they will hold on to the property for longer,"
Pre-Budget 2012
What they say before Budget 2012
Deputy Prime Minister Tan Sri Muhyiddin Yassin (20 September 2011)
He is confident that the 2012 Budget will focus on issues faced by the people including reducing the cost of living.
RAM Holdings Bhd chief economist, Dr Yeah Kim Leng (26 September 2011)
The 2012 Budget is expected to see efforts to increase confidence to offset the decline in export demand. He also expected the budget to be people-friendly, shift towards domestic demand and encourage purchasing of homes
Affin Investment Bank Head of Retail Research Dr Nazri Khan (26 September 2011)
The 2012 Budget is expected to announce measures to reduce the cost of living as well as bigger allocation for infrastructure projects, especially, for rural areas. The budget was anticipated to address these issues most probably by way of further reducing personal income taxes especially for the middle-income group, in order to increase the country's competitive advantage.
AmResearch Sdn Bhd in EconWatch Publication (23 September 2011)
The government's 2012 budget is expected to aim at tackling the people's higher cost of living burden. There could be direct assistance to the less privileged people as well as those from the low-income group such as in the form of cash vouchers.
"A voluntary reduction in employee's contribution to the EPF from 11 percent to nine percent may likely be included, releasing about RM700 million as disposable income — an additional option for the lower-income group to tackle the rising cost living,"
Budget 2012 to include efforts & solutions to tackle increasing cost of living
18 September 2011
The government has taken several initiatives in preparing the 2012 budget to overcome the rising cost of living, Second Finance Minister Datuk Seri Ahmad Husni Hanadzlah said.
He said the current rise in the cost of living was due to global instability, where in the context of food supply, the demand and supply were not in balance.
"The rise is also due to the increase in world population. To overcome this issue in Malaysia, the government has decided to include it as part of national agenda and the national key result areas (NKRA).
He said several short-term solutions that would solve urgent matters and long-term solutions which would involve efforts to strengthen the overall network had also been lined-up to overcome the issue. — BERNAMA
Rising prices of goods and food safety important for preparing Budget 2012
 9 July 2011
The problem of rising prices of goods and the implementation of a food safety programme are two important input for the preparation of the Budget 2012, says Second Finance Minister Datuk Seri Ahmad Husni Hanadzlah.
The budget is being prepared encompasses short and long term plans to ensure prosperity for the people. Emphasis is for residents in urban areas like Kuala Lumpur, who with an income of below RM3,000 are clearly impacted by the rise in prices of goods.
The government plans to have an efficient and comfortable system of transportation to take them to work while creating the First Home Scheme for this group.
PM invites public to join Roundtable on Budget 2012
5 July 2011
PM via his blog posting www.1malaysia.com.my invited public to take part in roundtable discussions on Budget 2012 themed "A Budget for Sustainable Growth". The formulation of Budget 2012 must also take into consideration a gloabl phenomenon: rising food and petrol cost.
3 questions posted for roundtable discussion:
1.) What areas or segments of the Rakyat should Budget 2012 look into that can ensure long-term growth and sustainability?
2.) Should the Budget focus more on the welfare of the Rakyat or on economic development? Short-term or long-term gains?
3.) How can the Government improve transparency and accountability in the budget implementation?
Innovation and research and development as key focus
9 June 2011
On whether Budget 2012 would focus on innocation incentives, Science, Technology and Innovation Minister, Datuk Seri Dr Maximus Onglili said the government would identify innovation and research and development as the key focus.
Budget 2012 Preparatory Focus Group To Discuss Inflation
22 May 2011
The Budget 2012 preparatory focus group, which will meet on May 31, will among others, discuss ways to curb inflation. The government was concerned over rising inflation and its impact on the people and, would sought inputs from various groups to keep it in check so as not to burden the masses. Inflation is now a global issue caused, among others, by spiralling food and crude oil prices following the political unstability in the Middle-East.
Ten Focus Groups To Help Formulate Budget 2012
16 May 2011
Ten focus groups will having meetings and discussions to help formulate the Budget 2012. The government is committed to ensuring that the people have a home. Under the Budget 2012, there will be a focus group just for discussions and input on affordable homes and urban poverty.
Budget 2012 to be inclusive, people-focussed
10 May 2011
The 2012 Budget will be inclusive with focus on the people. It would be a step towards realising Malaysia as a high income nation by 2020. Najib said it was a challenge to work on the budget as the Government of Malaysia need to rise and find innovative ways. the focus would be on transformation programmes that would increase the growth momentum and ensuring the prosperity of the people.Cuts in personal and corporate taxes may be possible once the Goods and Service Tax (GST) was implemented.
Pre-budget 2012 dialogues start on May 10 
1 May 2011
The pre-budget 2012 dialogues, which will be held over a period of three months, kicks off on May 10, 2011. Businessmen and representatives of non-governmental organisations (NGOs) and 300 investors would be involved in the dialogues. Like previous years, the government would create an economic ecosystem and boost the private sector as the engine of growth in the march towards a high-income nation by 2020.
---
Malaysia Budget 2011 Tax Summary and Proposals:-
http://www.nbc.com.my/malaysia-budget-2011-tax-proposals