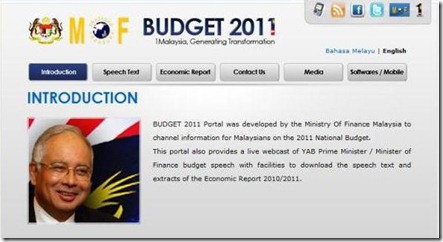 On the Budget Day (Friday), the Inland Revenue Board (IRB) will open its 2011 Budget Special Hotline Operations Centre on Friday, Oct 15 from 7pm to 10pm. The hotline is to allow the public to obtain further information on any tax related issues after the delivery of the Budget 2011 by the Prime Minister, who is also the Finance Minister.
You may call IRB hotline numbers below for Budget 2011 queries:
03-62015975, 03-62015976, 03-62015981, 03-62016027, 03-62016031, 03-62016035, 03-62016037, 03-62016041
On the next day, Saturday Oct 16, the Malaysian Institute of Accountants (MIA) and the Chartered Tax Institute of Accountants (CTIM) will host a Budget 2011 hotline for the public. The hotline is to provide a channel for the public, to seek advice from tax experts on the Budget proposals and its tax implications on individuals and businesses.
Call the number below and talk to the tax consultants from the major accounting firms:
03-2274 5055 (operates from 9am to 12pm)
As in the past budget announcement, the Budget Speech will be delivered by the Finance Minister, who is also Prime Minister now around 4pm on Friday.
If you are interested to read the full 2011 Budget Speech and Appendices, it should be available for download from the Official Budget 2011 Portal via MOF's website www.treasury.gov.my at 6pm or Inland Revenue Board www.hasil.gov.my.