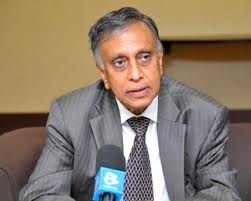 Minister in the Prime Minister's Department Tan Sri Nor Mohamed Yakcop says Budget 2013 will focus on the people's prosperity and the country's economic growth to face the short- and long-term economic challenge besides maintaining the existing fiscal policy.
He said the two focus areas form the bases of the economic policy practised since the time Malaysia began to abandon the free market principles introduced by the British colonial rulers. 
"The free market economy has brought social consequences, so since the 1970s Malaysia has practised a new philosophy that focuses on economic growth but at the same time also promotes social justice.
"We already have our own fiscal policy, which is a factor in Malaysia's success at international level," he told reporters after officially launching the Sekolah Kebangsaan Telok Ayer Tawar library here today.
He made the remarks after being asked to comment on the Budget 2013 to be tabled on Sept 28 and the announcement of Malaysia's economic growth at 5.1 per cent for the first quarter and 5.4 per cent for the second quarter of 2012.
"For economic growth, we focus on the quality and quantity of the growth with the aim of maintaining a high growth rate and so that the benefits can be enjoyed by all the people. "This situation can indirectly promote social justice to ensure a comfortable living standard for the people," he said.
At the function, Percetakan Nasional Malaysia Bhd (PNMB) contributed RM150,000 towards the cost of modifying the library, furniture and acquisition of 1,000 books.
The library, a PNMB corporate social responsibility project, was completed on Aug 15. The school was chosen for its distance from town and for its inadequately equipped library. – Bernama
Source: The Sun Daily

61 total views, 1 views today