Closing Down Company / Winding Up / De-registration / Strike off Company in Malaysia
Why keep the company if you do not need the company anymore? What costs to be paid to maintain a company?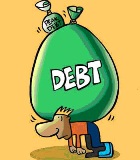 Accounting fee (RM500)
Secretary retainer fee (RM720)
Audit fee (RM800)
Tax filing fee (RM800)
Annual return to SSM (RM300)
Total annual expenses = RM3,120
Failing to submit Annual Return and Audited Accounts to SSM will result in fine and penalty charged to the Company, and to directors personally.
After many years, you may want to get rid of it and to save your valuable time and thousands of RM.
Let us help you to legally "close down" the company with minimal cost.