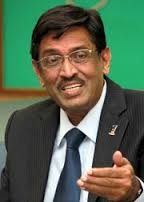 PUTRAJAYA (29 March 2013): THE government will extend the Social Security Organisation protection to all temporary and contract staff from May 1, Human Resources Minister Datuk Seri Dr S. Subramaniam said yesterday.
They are among the 63,000 government employees to benefit from coverage under the employment injury and invalidity pension schemes similar to the benefits enjoyed by employees in the private sector.
"Among the benefits available under both schemes include temporary disability benefit, permanent disability benefit, constant attendance allowance, funeral benefit and invalidity and survivors' pensions," he said at the ministry's headquarters, here, yesterday.
Socso contributors are also eligible for rehabilitation services with the view of returning to work.
"Socso will take immediate action to register all temporary and contract employees of the federal and state public services, statutory bodies as well as local authorities to ensure coverage under the Socso social security schemes," he said.
Socso's chief executive officer Datuk K. Selvarajah said that more than 60,000 private sector employees had undergone medical check-ups under its health screening programme.
He said Socso had finished distributing the 1.9 million health screening vouchers to employers early last month.
"We have been receiving positive response from the employers and employees. However, many are still taking their time to go for the screening. They have until year-end."
The free health screening for private sector workers above the age of 40 was announced by Prime Minister Datuk Seri Najib Tun Razak during the 2013 Budget last year.
K. Anuratha, 52, who received the voucher earlier this week lauded the government's effort to ensure the workers' good health.
"Many people do not give serious thought to their health and end up knowing about their illnesses only at its later stages."
Source: NewStraitsTimes
---
Related Topics: