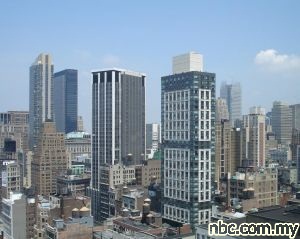 Kenanga Research says market talk is that the Government will consider hikes in Real Property Gains Tax (RPGT) and increase stamp duty for house purchases.
The coming Budget 2013 is expected to address two interesting issues – how to curb the speculative property market and how to address the issue of affordable housing.

The research unit opines that Budget 2013 measures will likely address the affordable housing segment such as the 1Malaysia People's Housing (PR1MA) and My First Home schemes.
Kenanga in its research report says: "We foresee the Government hiking RPGT to indicate its willingness to reign in property prices."
However, the research unit says across-the-board hike in buyers stamp duty is unlikely as it will hurt the first-time home owners' market, unless the stamp duty hikes are tiered according to house prices and first home-ownership status.
Low cost housing is capped at RM42,000, while affordable housing cost between RM85,000 and RM300,000.
Last month, Housing and Local Government Minister Datuk Seri Chor Chee Heung said the Government would not hesitate to tighten fiscal policies to curb property speculation, and ensure reasonable and affordable property prices.
He noted that most Malaysians felt property prices were "far too high" and wanted the Government to look into this.
During the 15th National Housing and Property Summit, Chor said the Government was expected to allocate more affordable housing projects such as the People's Housing Project (PPR) and PR1MA in the coming budget.
He added that the maximum household income of RM2,500 eligibility for PPR houses might be too low nowadays.
"Perhaps the maximum eligible household income for PPR houses can be increased to RM3,000," Chor said.
Rising prices and affordability are issues being grappled by the Government and the private sector.
It should be noted that the Real Estate and Housing Developers' Association (Rehda) has proposed measures for Budget 2013 that are aimed at reducing business costs for property developers in order for property prices to be managed at more affordable levels eventually.
Rehda has proposed that private utility companies should not be imposing capital contribution charges on property developers, which are presently required to lay infrastructure in their projects.
Rehda points out that the duty of providing infrastructure such as sewage treatment plants and surrendering land for power substations add to development costs.
Based on its research, compliance costs payable to various authorities can be as high as 30% of the selling price of the housing units.
"All these contributions imposed on developers would eventually be passed on to buyers, thus increasing the prices of properties," REHDA says.
Rehda has also proposed that developers be relieved from the role of providing low-cost housing, as well as an automatic release mechanism for unsold bumiputra units to the open market (50% of unsold bumiputra units to be released after six months from the sales launching date, 25% to be released after 12 months and the balance 25% to be released after 18 months).
Rehda has also asked for a reduction of stamp duty rates for property transfers, which the association says would help to lower the costs of home ownership, encourage house purchases and help sustain home affordability levels.
It was noted that the majority of annual residential property transactions were below RM300,000 (more than 78% in 2012, and more than 75% in 2011).
However, National House Buyers Association (HBA) secretary-general Chang Kim Loong tells StarBizWeek that there should be hikes in the RPGT and stamp duty rates, in order to curb excessive speculation in the property market.
HBA has proposed that RPGT be increased to 30% for the first two properties sold within two years after acquistion or completion (whichever is later).
"Subsequently, RPGT rates should drop to between 10% and 20% for the first two properties sold after the first two years, but within the first five years after acquistion or completion (whichever is later). There should be no RPGT after five years."
HBA has also proposed that for the third and subsequent properties sold within 10 years, RPGT should be at 30%.
"After 10 years, there should be no RPGT."
HBA also wants the current stamp duty rates to be maintained for the first two properties.
However, HBA has proposed that stamp duty rates to be increased to 5% of the purchase price for the third property, 7.5% for the fourth unit, and 10% for the fifth and subsequent properties.
To further curb property speculation, HBA also proposed tighter lending guidelines by imposing a maximum loan-to-value (LTV) ratio of 60% for the fourth housing loan, and a maximum LTV ratio of 50% for the fifth and subsequent house financing facilities.
Chang says HBA's proposals will not punish genuine house buyers, or those who buy for long-term investments, or to fund their children's education.
He also says HBA sent numerous proposals to the Government to increase the supply of affordable housing.
"We have called for the Government through PR1MA, to ensure that the maximum allocation for affordable housing is set aside when land is unlocked for property development."
Chang also voiced his concerns about vested interests lobbying to build commercial properties such as shopping complexes and high-end properties when the government unlocks its land bank.
He has also asked for more incentives for property developers who build affordable properties such as lower tax rates.
"Incentives for lower income earners to buy their first property can include preferential interest rates," he says.
Chang also opines that there is currently a huge mismatch between what the average household income can afford compared with what is available in the market.
"A homeless generation will emerge to create various social problems," he says.
Based on HBA's estimates, he says families with a monthly income of less than RM3,000 a month can only afford a house which costs less than RM150,000 while those with a monthly income of up to RM6,000 can only afford a house which costs less than RM300,000.
"Based on government statistics, these numbers makes up almost 80% of our working population."
The concerns surrounding affordable housing was brought up by Deputy Finance Minister Datuk Donald Lim Siang Chai who recently said that affordable housing would be a Budget 2013 highlight.
Lim says the Government had proposed to increase the limit of house prices under the My First Home scheme from RM220,000 to RM400,000 to fulfill the needs of those earning below RM3,000.
Property consultancy CB Richard Ellis (M) Sdn Bhd executive director Paul Khong says that increasing the limit of house prices under the My First Home scheme to RM400,000 for purchases within Klang Valley and Penang may be more relevant in today's scenario.
"House prices have moved up substantially over the last three years. The amount of up to RM220,000 may not be too meaningful especially for residential properties within the Klang Valley areas," says Khong.
Source: TheStar Online
78 total views, 1 views today